Dyneema Wakeboard Rope I/II/III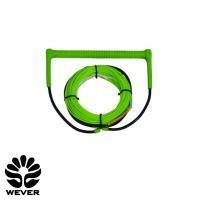 Dyneema Wakeboard Rope I / II / III
WEVER manufactures its Dyneema ropes with genuine Dyneema fibers. Dyneema is respected as the premium brand for Ultra-High Molecular Weight Polyethylene (UHMwPE). Dyneema fiber is exceptional strong and lightweight allowing for the manufacturing of ropes with very special characteristics. A rope made with Dyneema is as strong as a wire rope, with the same diameter but only about 10% of the weight per meter. A rope made with Dyneema has a low elongation, is neutrally buoyant, excellent fatigue and UV resistance.
Specifications:
Material
Genuine SK60, SK75, SK78, SK90 Dyneema Fiber
Coating/Jacket
Polyurethane UV Resistant Coating
Polyethylene Braided Coating
Polypropylene Braided Coating
Polyester Cover
Handle
7075 Aluminium Bar with EVA Cover
End Caps
Vinyl or Plastic Injection Moulded
Alternative material, coating and handle construction are available upon request.