Skate Truck 10.0 SK-07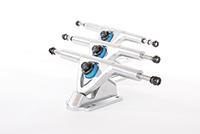 Skate Truck 10.0 SK-07
&nbsp
Wever Cast Truck

WEVER is a Taiwan based OEM longboard truck manufacturer dedicated to excellence in everything we do. All of our longboard trucks are poured at our truck foundry at Huizhou in China. WEVER manufactures its longboard trucks through the following production methods like die casting, permanent mold casting, forgings and CNC machining.
WEVER's longboard trucks are made out of virgin aluminum 356, 7075 or magnesium with chromoly or grade 8 axles, all the finest longboard truck materials, to withstand the stringent quality requirement by the pro riders.
All of our trucks are T6 heat-treated to bring cast aluminum to full properties with in a couple of hours as opposed to 12 months. WEVER is also able to apply a variety of surface finish that includes, but not limited to, raw finish, polished finish, anodized look and powder coat finish with laser etching or pad printing to the OEM longboard trucks.
Features:
Production methods:
Die Casting
Permanent Mold/Gravity Casting
Forgings
CNC Machined
Hanger and base plate material:
Aluminum 356
Aluminum 7075
Magnesium
Heat treatment
Axle and Kingpin Material:
Grade 8 Axle Steel / 4041 Chrome Molybdenum Axle Steel
Finish:
Raw Finish
Tumbled Finish
Electroplated Finish
Polished Finish
Water Transfer Finish
Powder Coat Finish
Laser Etching Finish
Pad Printing
Alternative manufacturing method, material and finish are available upon request.